Managing Intensively Grazed Pastures: Improving Drought Tolerance
Howard Skinner, USDA-ARS Pasture Systems and Watershed Management Research Unit, University Park, PA
Background
Reduced forage production on pastures during periods of summer drought presets a significant risk to producers who are constantly searching for ways to reduce that risk. Considerable research suggests that increasing the number of species in pasture mixtures can increase and stabilize productivity under stressful conditions. Benefits from increased species diversity are often greatest under harsh environmental conditions and have been associated with several factors including:
Improved utilization of scarce resources;
Facilitation of the growth and survival of one or more species by a companion species;
An increased probability of including the most productive species for a given environment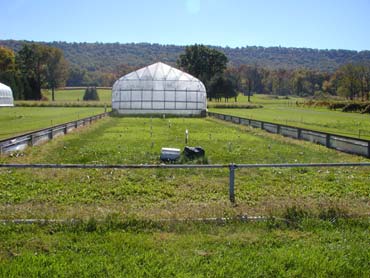 Important Findings
Including more than two species in pasture mixtures increased yield under drought conditions but not when rainfall was adequate.
Photosynthesis increased with increasing species number during the summer and fall when moisture was limited but not in the spring when drought stress was not present.
Roots were distributed deeper in the soil profile with increasing species richness, thus improving access to deep soil moisture.
Including species in pasture mixtures that exhibited specific desired attributes was more important in determining forage yield than was the actual number of species. All mixtures tended to lose species over time.
Practical Application of Results
Forage production during periods of summer drought can be increased by including additional species in the pasture mixture, especially if those species have desirable attributes such as improved water use efficiency or deep root systems. However, many relatively drought-tolerant species such as chicory or red clover are relatively short lived and will probably require periodic reestablishment for long-term realization of the benefits they can provide to pastures.
---